Hey everybody!
Here are some pics of a green eye I tried with my substitute for MAC's golden olive pigment and a nameless cheap-stuff e/s palette. Ended up poking myself in the eye with my new angled brush, and getting late for the mall cos I was busy snapping, ma!
Anyway, I was pretty happy with the result :)

Diana of London has this e/s range in "Bright Light", (please see also
this post
and
this one
). I tried to find their website, no luck. Only got this:
"Diana of London
(From the Tribune,
online edition
, Oct. 22, 2003, Chandigarh)
Maxcare International, makers of cosmetics, have launched 'Diana of London' range in India. The products claim the makers are affordable and eco-friendly.
The company is aiming for a spot in the "huge Indian cosmetics market". The products will be out in the market by next week at major chain stores like Ebony, Shoppers' Stop and Lifestyle. With prices ranging from Rs 95 to Rs 375, Diana of London is positioned for upper middle and high-end consumers.
The manufacturers assert that their products are friendly to the skin as well as the environment and do not contain animal fat."
During my last much lamented haul, I also grabbed this beautiful beautiful catalogue of DoL, and... wait a mo - hey, they got their
website link
right there, on the back page! Funny how google misleads one sometimes. Ok, so I just went for a visit, and although parts of the site are under construction, they have some pretty nice product views. Unfortunately, they are yet to upload the one I want to talk about today. So u'll have to be satisfied with this macro shot of the product from the yummy colorful catalogue (I just loooooove catalogues, snagged a Lakme summer cat from Health and Glow yesterday, gotta write soon about Health and Glow, my favourite :) beauty shop)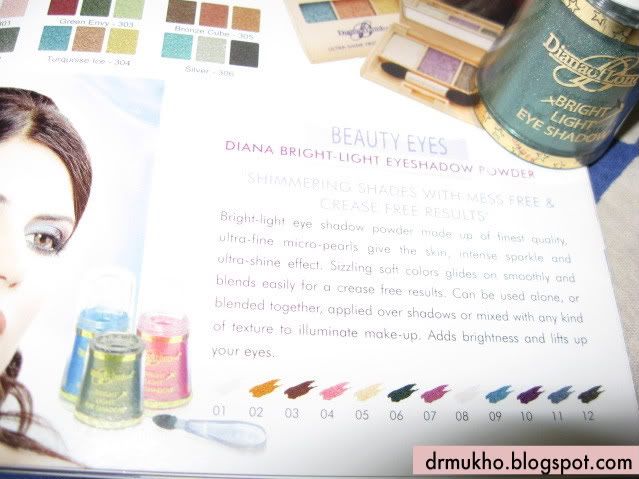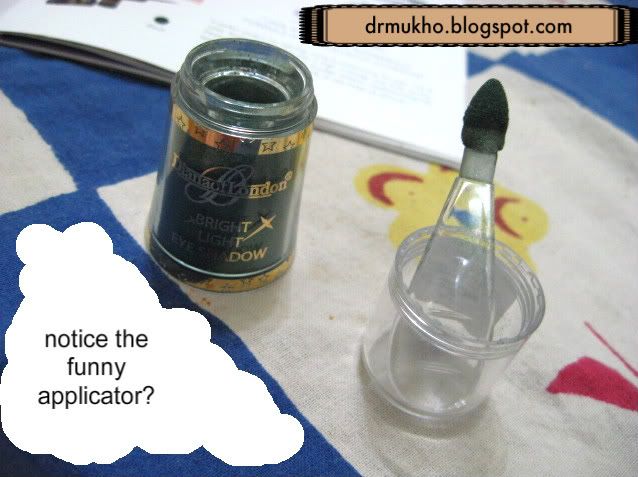 So the pics u see are of my freshly made up (and slightly watery, courtesy of the poking :P) peepers, sorry no full face shot, hubby no like; please adjust, I am like that only nooooo, :)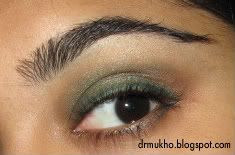 Stuff I used:
Face: (or what little u can see of it, lol) Revlon skinlights face illuminator lotion spf 15 in pink light mixed with Lotus Herbals ALPHAMOIST™ Alpha Hydroxy Skin RenewalOil-Free Moisturiser, and Covergirl Clean Pressed Powder, Fragrance Free, in Ivory 205
Eyebrow: Tweezers, scissors, and a comb :)
Eyelid: No primer, my eye colours stay on nicely without 'em, and anyway, I'm such a newbie, wouldn't know what do do with it if I had it :)
PJs apart: Browbone: White shade from my nameless cheap 12 color palette
Lid: Concentrated near the lashline and blended upwards upto the browbone, DoL Bright Light e/s in Green Star 06
Crease: Brown shade from my nameless cheap 12 color palette :P
Upper lashline: Revlon eyeliner pencil in 14 green
Lower lashline: Revlon eyeliner pencil in 14 green with a light dusting of that brown shade, both done only on the outer two-thirds
Lashes: Lakme nine to five Intense Volume Mascara
Tools: All Vega: Sponge tip for the highlight, round tip for color application and blending, angular tip for crease work, lower lid lining and poking the eye.
Kept my lips nude becoz the eyes were colorful enough, using only Lakme Happy Hour Lipcolor D510 Ritu Beri, with a very tiny smudge of Revlon streetwear lipgloss in 40 Awesome. Oh, and in case u all think I ended up looking anaemic/ghostly/vampire-like, I did use blush :) Maybelline expertwear in 60 Berry Sorbet. I gotta practice at this laying out the list business.
My precious brushes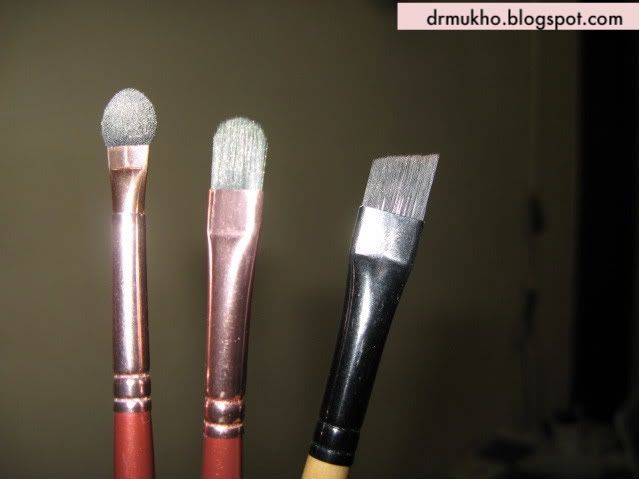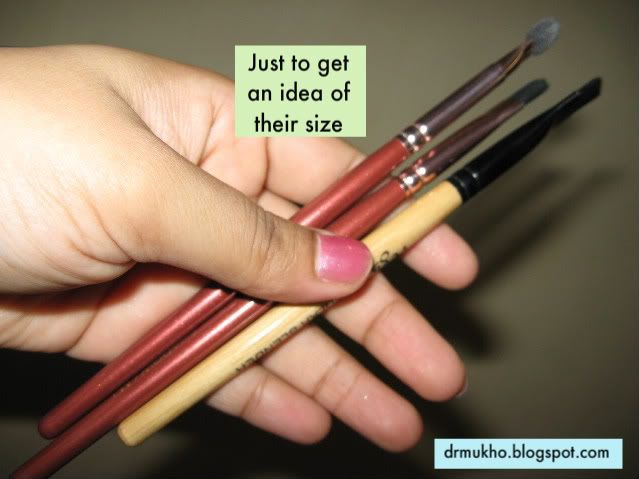 So I've ended up becoming a fan of the green eye look, but no go - gold is, was and will be for all time, my faaaaaavourite color :)
Ciao, only 5 more days till the weekend :)